7TH DECEMBER 2018 // AN GRIANAN HOTEL
This was a wedding worth waiting for! 

We have known Rachel and Christopher for a long time and when they asked me to create their stationery for their wedding,  I was honoured. They got married in the lovely An Grianan hotel in Donegal on a chilly early December day but the whole event really warmed our spirits!
Both having a fondness for films, they wanted to include the Marvel universe but with a Christmas twist in regards to the time of year, incorporating reds, greys and a bit of sparkle to show some festive cheer!

For their invitations, we decided on a DL sized design enclosed a bright poppy red envelope, incorporating a custom illustrated snowflake, monogram and a mixture of classic and modern fonts to convey a sense of romance and tradition. I incorporated sparkly accents including a silver glitter bellyband with red bakers twine and a snowflake charm detail adding a touch of luxury and showing how special this upcoming wedding was to be.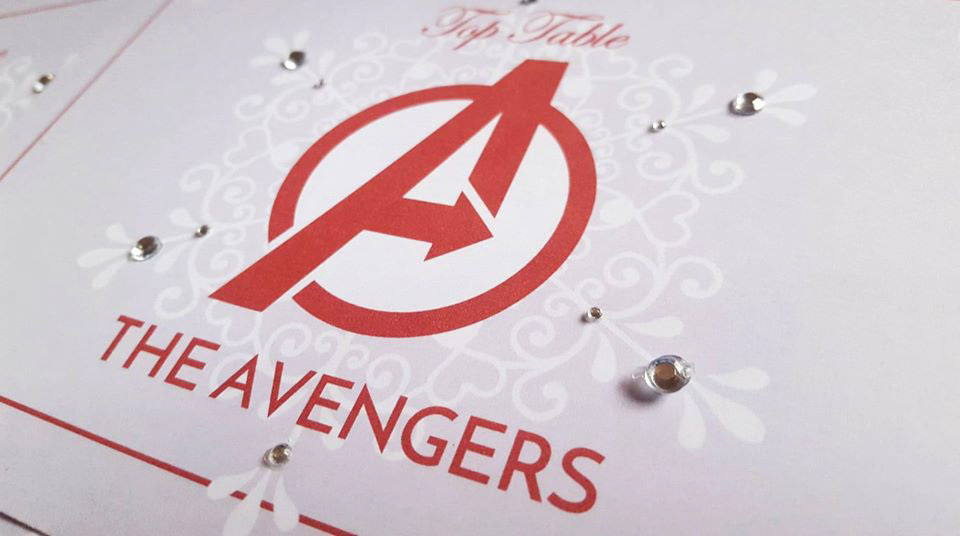 For Rachel & Christopher's "On the Day" stationery, I created a postcard style seating plan with each card being mounted onto a grand mirror surrounded by an ornate silver frame. The same colour theme from their invitations carried throughout but I also

added the logo of each Marvel character (after which each table was named) in their main poppy red colour onto the cards of both their seating plan and table names. Sparkly touches and their monogram finished them off perfectly and the idea seemed to go down really well with their guests, as well as creating a wonderfully unique sense of the couple's classy style!
Their place cards were very special indeed, with each one being a tag attached to a Christmas tree bauble. We chose a variety of smooth, sparkly and matte baubles and I loved seeing the guests reactions to them! We took ours home and hung them on our tree, and I'm sure we weren't the only ones! 
I send all my love to these two and thank them for letting me be a part of what was a truly fantastic day! I wish you absolutely every happiness this life can bring you. 
have your big day, your way
©2018 Creative Wedding Company | A Liffy Designs Company
All images by Creative Wedding Company, otherwise credited to original source.