10TH MAY 2019 // CLANDEBOYE LODGE HOTEL
An unconventional wedding for an unconventional couple - 

When a bride contacts you, you never really know what to expect and well, when Victoria got in touch... Needless to say I got very excited!!✨
Star Wars is very close to their hearts and they wanted to carry their combined love for the franchise throughout every aspect of their big day. If you have a theme, you might as well go big or go home and that its exactly what Victoria and Neil did on their wedding day. From a death star cake to light sabre bouquets - no stone was left unturned with this one! As a fan myself I had SO much fun nerding out and designing these Star Wars themed "On the Day" pieces for them, including seating plan, place cards and table names.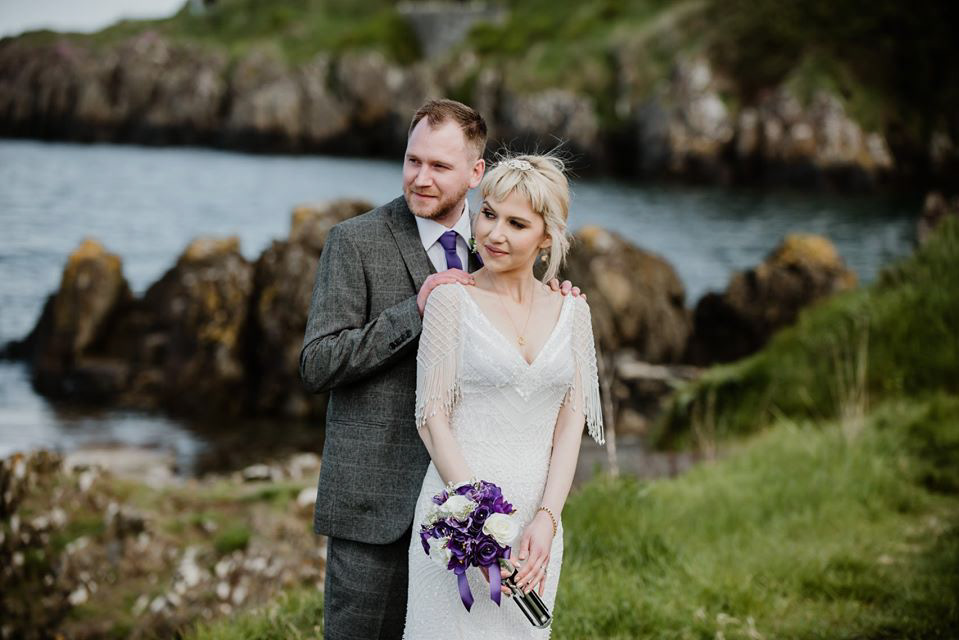 Victoria and Neil wanted each of their tables to represent a character from the franchise so I drew custom quirky illustrations of each character along with a banner detailing each table name. 
They hadn't decided on their exact table names yet at the time that I was designing their pieces, and so when I created their mockups, I came up with Star Wars love puns as placeholders until they had, including "For Fett-er or worse", "Till Death Star do us part" and "Lost without Chew"... (as I said I'm a Star Wars nerd too, ok?). Well, they liked them so much that they decided to keep them and use them on their big day! I was thrilled to bits and really think it added a sense of charm and wit to the pieces and reflected the couple's sense of humour and style!
A deep violet purple and grey were chosen as their bridal colours and so were also used as a base for the colour story of the stationery, to tie everything together and create a cohesive aesthetic. I used the Star Wars font throughout, balancing it with a softer script for a some romance and contrast. On the seating plan I also incorporated a variety of other Star Wars elements including the millennium falcon, the death star and quotes, overlaying stars for an "out of this world" experience... (not sorry). 
I also had the pleasure of creating Victoria & Neil's thank you cards. I decided to create an illustration of the couple in the same style as used prior, mirroring the iconic poster of the Mr & Mrs Smith movie. With a last name like Smith, how can you not??
I absolutely loved drawing every aspect of this whole stationery design and am incredibly proud of the outcome! I say this every time, but this one is definitely a top favourite project! As a couple, Victoria and Neil are so undoubtedly themselves - with the groom taking the bride's last name as she has a daughter and he wanted them all to have the same surname.. My heart strings are well and truly stretched to their limits! You two are as cute as baby Yoda, and from start to finish were a pleasure to work with throughout the entire process.

I am honoured to have helped you have your big day, your way and whole heartedly so. I hope that your life together is filled with adventure, happiness and love! 

LOUISE XX
have your big day, your way

©2019 Creative Wedding Company | A Liffy Designs Company
All images by Creative Wedding Company, otherwise credited to original source.